8/4/95: A teenage mother lets me carry her baby for her. She seems apologetic that she hasn't had another one yet, but I tell her many people wait more than 2 years to have their next baby.
8/12/95: They've discovered a technique to lift fingerprints from water.
12/2/95: I'm lying in bed and I hear someone going through the knives in the kitchen drawer.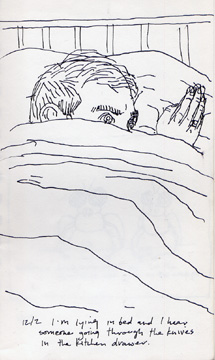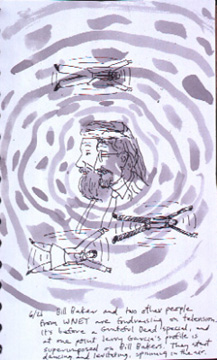 6/3/95: Egg Dairy in Nazi Germany. A Dollar per Hundred. How it survived.
David Reisman: Dream Drawings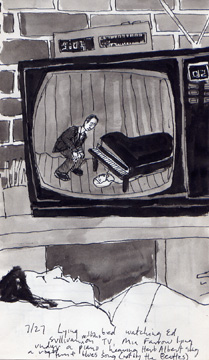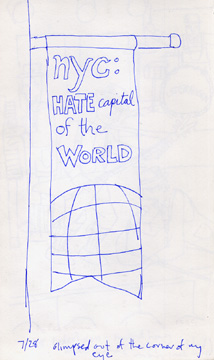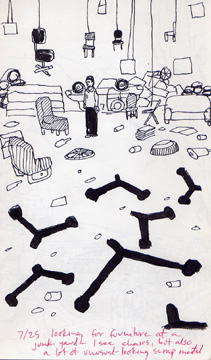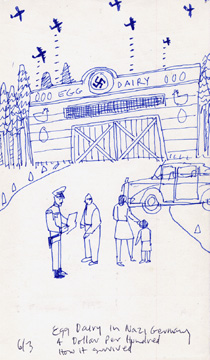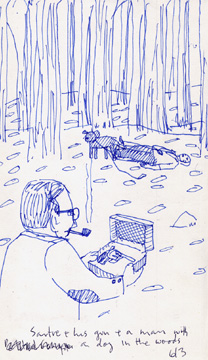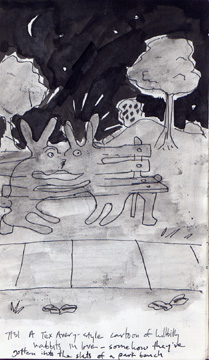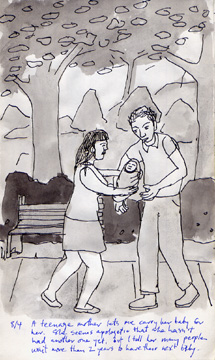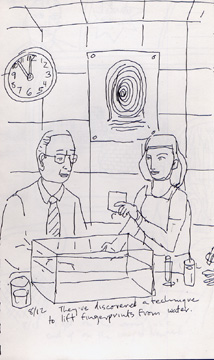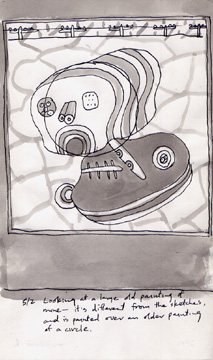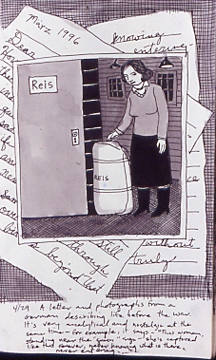 4/29/96: A letter and photographs from a German describing life before the war. It's very analytical and nostalgic at the same time -- for example, it says, "This woman, standing near the 'grain' sign -- she's captured like that forever, never knowing what is there, never entering."
6/3/95: Sartre & his gun & a man with a dog in the woods.
7/25/95: looking for furniture at a junk yard. I see chairs, but also a lot of unusual looking scrap metal.
7/28/95: Glimpsed out of the corner of my eye.
7/31/95: A Tex Avery-style cartoon of hillbilly rabbits in love -- somehow they've gotten into the slats of a park bench.
7/27/95: Lying in bed, watching Ed Sullivan on TV, Mia Farrow lying under a piano, hearing Herb Albert sing a rhythm and blues song (not by the Beatles).
5/2/96: Looking at a large, old painting of mine. It's different from the sketches and is painted over an older painting of a circle.
6/21/96: Bill Baker and two other people from WNET are fundraising on television. It's before a Grateful Dead special, and at one point Jerry Garcia's profile is superimposed on Bill Baker's. They start dancing and levitating, spinning in the air.